The ski resorts throughout the world are becoming a symbol of the climate crisis: many of them struggle with lack of snow. This year pictures of artificial ski slopes in white running through a green mountain landscape went viral online, causing an ongoing discussion about skiing, its effects and its future.
In fact, ski resorts in the Alps are not the first to run out of snow for normal skiing due to global warming. On the other side of the world, for example in the US, South Korea and Japan, ski resorts are also struggling with milder temperatures and a lack of snowfall. While green slopes are becoming a symbol of the advancing climate crisis, this change is not necessarily due to winter sports themselves. We'll show you what you can do about your own climate impact if you're passionate about winter sports. We also talk about short-term and long-term solutions and the future prospects of the mountains.
An average ski day at the French ski resort Tignes has a total average footprint of almost 49 kg CO₂e. The components of the emission impact throughout our categories looks like this: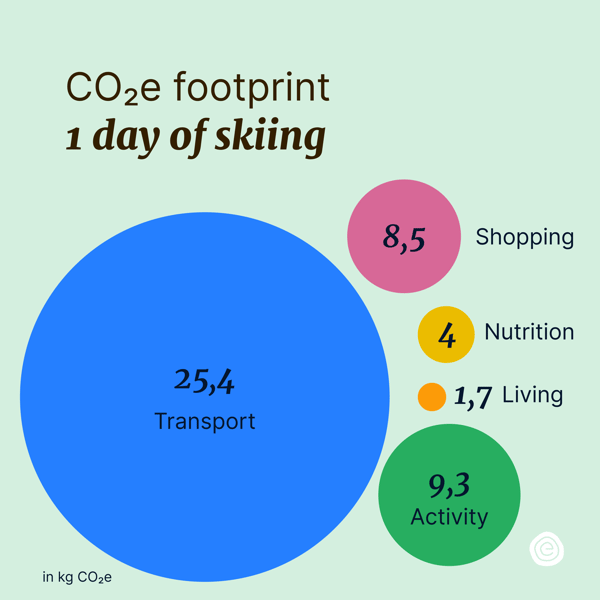 As is often the case, transportation accounts for the largest share of emissions. The graph shows an average value that does not necessarily apply to your behavior, because your transport emissions are almost entirely your responsibility. After all, you decide how you get to the ski resort and back. It is no longer a secret that train and bus should be preferred (average 5 kg CO₂e) and flying (with cab average 61.7 kg CO₂e) is the most damaging to the climate. The car (alone an average of 22.1 kg CO₂e) becomes an acceptable alternative especially if you make it as full as possible. With 4 passengers, the car competes with train travel.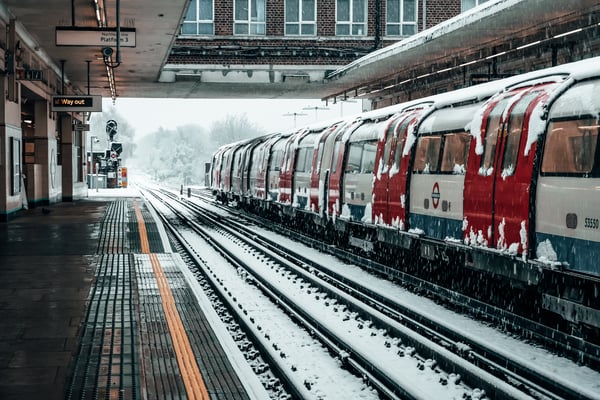 Conversely, it makes sense to go to those ski resorts that can be easily reached by public transport and also offer bus services in the ski area, so that you do not have to rely on the car. Fortunately, this is true for some ski resorts in Europe - and you've already taken a big step towards a sustainable winter vacation. In addition, this will also encourage other ski regions to expand their transportation networks. Your arrival and departure can therefore have a significant impact on your emissions and set the course for the future. In order to make all your vacations more sustainable in the future, you should start by adjusting this screw and use sustainable transport options.
Download our Emyze app to find out the CO2e-values.
The second largest part of your skiing vacation emissions comes from the activity itself. The lift operation, the snow cannons, the huts to stop at. Such a slope must be maintained and operated. Above all, the energy required for this causes emissions over which you can have little influence. The responsibility lies with the ski area operator. If you still want to fight emissions, find out whether the ski resort has a sustainability strategy and where it gets its energy from. Especially if the energy comes from renewable sources, it makes a relevant difference. Can't find anything on this at your favorite ski resort? Speak up for your planet and ask specifically by email or phone! This won't reduce your emissions directly, but you'll pave the way for very climate action in the future.
The third emissions bubble we want to look at concerns the "Shopping" category. Again, you have a lot of room to maneuver to keep your emissions lower. Instead of buying new ski equipment, you can simply borrow the things you need from friends or at the ski resort. Especially if you only do winter sports occasionally, it is not necessary to own everything yourself. You ski regularly and owning your own equipment is definitely worth it? Then look around for used items the next time you go shopping. This is another way to make sure you keep your emissions and other negative impacts on the planet low and help us be more careful with our raw materials.
Your diet and accommodation also have a small impact. Why don't you choose a lunch without meat or make sure when you book your place to sleep that the accommodation also deals with sustainable alternatives. In this way, you can further increase your impact in the short and long term and reduce your emissions step by step.