In order to understand global emissions and your personal footprint, we believe it is essential to understand what the commonly used climate terms mean. Only when you understand the contexts can you become a master of your CO₂e budget. That's why we created our climate dictionary. So let's dive right in: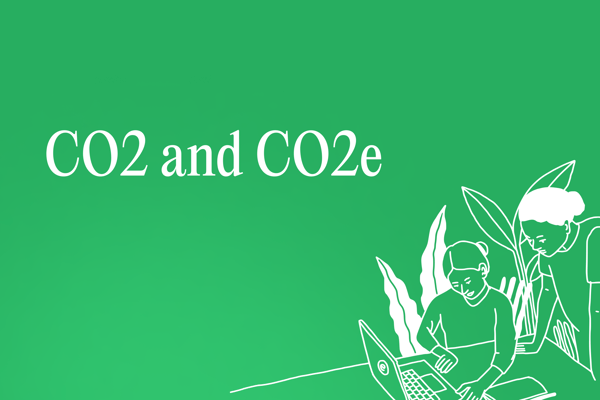 The difference between the two abbreviations CO₂ and CO₂e is much greater than the small letter suggests at first glance. To understand your footprint, this distinction is very important.
CO₂ is the abbreviation of carbon dioxide and has been on everyone's lips for several years. It is considered the most dominant greenhouse gas and is created from burning fossil fuels, industrial production, and land use. Although the chemical name CO₂ clearly stands for this one greenhouse gas of several, people often fail to distinguish between the different gases and use CO₂ as a collective term for all of them. We would like to be a little more precise.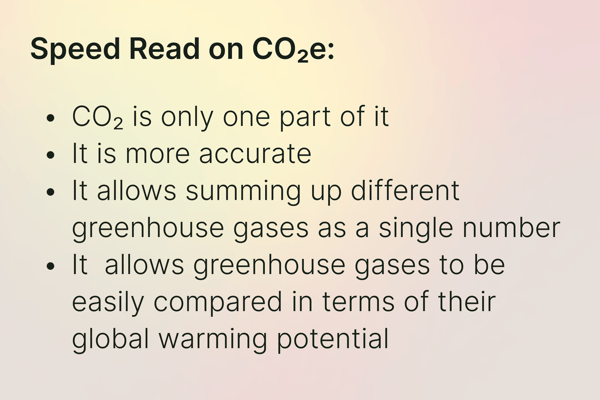 As mentioned, CO₂ is not the only greenhouse gas that is driving global warming and therefore the climate crisis. There are a number of other gases that significantly contribute to it. If you want to speak of a value that summarizes all the greenhouse gases involved, it is correct to speak of CO₂e, which stands for carbon dioxide equivalent (it can also be written as CO₂ equivalent or CO₂eq). To introduce an equivalent is an attempt to convert the warming impact of the range of different gases into one single metric. That means, the main difference between CO₂ and CO₂e is that CO₂ only accounts for carbon dioxide, while CO₂e accounts for carbon dioxide and all the other gases as well.
The aim behind the unit CO₂e is more transparency. Only through unifying, CO₂e footprints can be compared to each other, because all factors are taken into account. For this reason, you will only find CO₂e values in our app.