A carbon footprint is the total amount of greenhouse gas emissions that are generated by an individual, organization, or product. In reality, the numbers used to calculate these emissions are never flawless and unlikely to display the real impact of our choices on our livelihood.
If you're already in the sustainability game, you might have learned that there is almost no activity in our life that doesn't contribute to the destruction of our planet. However, you have probably also come to enjoy the creative solutions people are coming up with along these way of learning from fossil mistakes.
If you're new to all of this - don't waste time on dwelling over the old ways; we as humanity are just starting to exploit the options to solving our need based conflicts - and there are amazing solutions out there, we can learn from and implement to benefit ourselves and our environment.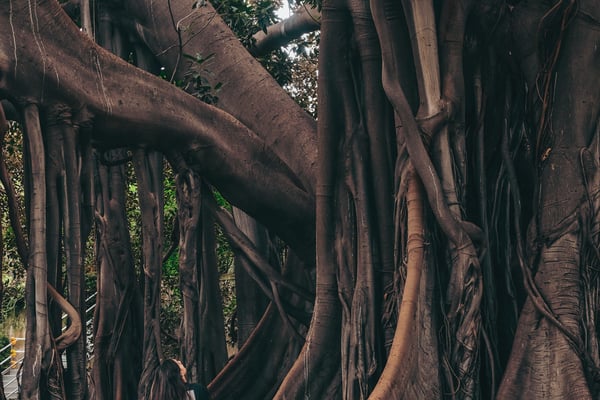 So instead of looking at your carbon numbers as absolute given, rather use them to visualise your impact and slowly reduce that pile. Think of an ice cube of 8 meters each side. Next to a family home that would be a huge dice with pretty heavy impact on your living conditions. That's the size of one tonne of CO₂e emissions. You likely produce more than ten of these cubes every year, simply by how you live your life.
However, these huge cubes are the addition of many small habits we can easily adjust and over time shrink that mountain by being more aware or even melting the cubes into the environment - plants love CO₂.
So to look at the pieces of our emission cubes, it helps to rather think of 1 meter long cubes in our home - that's about 2 kg of CO₂e and you can save a lot of these 1 meter cubes within days and a lot more when you start exploring further options along the way.
It is important to note that while reducing our individual carbon footprint is a key element to change the path of our future, the push for systemic change is essential to unfold the whole impact of individual effort. Ending fossil fuels needs to be a priority factor for all future changes, if we want to prevent the worst outcomes from global warming. If you want to help that process along, hold decision makers accountable. This can include advocating for policies that promote renewable energy and sustainable practices, supporting businesses that prioritise sustainability, and engaging in community efforts to address climate change.
Who should try this new perspective on their carbon footprint? Let your friends participate in the transformation: